You Are Invited to this Networking Meeting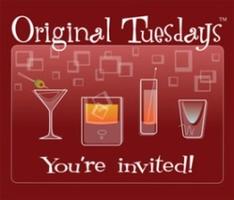 Monthly Event - Third Tuesday of every month: 4:00 PM (CAT)
The Square Boutique Hotel
250 Umhlanga Rocks Drive
Durban
South Africa
Music For You
Tim Wells Blues Band will play at St Clements this Fri 12 April from 19h30pm. R50 at the door. Tel 031 2022511
The WGSA KZN committee would like to invite you to attend a meet and greet on Monday 15 April at 18h00. During this session WGSA Council would like to get your input to put forward a programme for the rest of the year.
So, be there!
VENUE:
Smile Spa, Shop 2A, 136 Cowey Road
Musgrave
Entrance on Cowey Road
Free secure parking
Kind Regards,
Thea Aboud
Writers' Guild of South Africa
Mobile: 082 575 6901
Office: 011 888 4349
Fax: 086 654 1972
Email:
admin@writersguildsa.org
/
wgsainfo@gmail.com
Website:
www.writersguildsa.org
(Source - WGSA)
Master Class for Script Writers
Twist Theatre Development Projects, in partnership with the National Arts Festival and PANSA, will be hosting the annual Novel-Script Project, a master-class for script writers, in Grahamstown from 22 to 28 June.
This project brings together writers from South Africa, Zimbabwe and the Netherlands in an intensive 5 day workshop that focuses on writers honing their craft.
Participants are provided with travel, accommodation, a per deum, and an invaluable experience.
We will be selecting just two South African writers to be part of the project for 2013.
This is a professional programme, and writers must be mid-career, and meet the following criteria:
•Fluency in writing and conversing in English,
•Experience with having staged at least 2 of their own original scripts on the professional stage,
•Computer literacy, and own lap-top for the duration of the project,
•Openness to constructive criticism and workshop processes,
•Full availability over the period 22-28 June,
•The project does involve some preparation, and participants must be willing to complete an assignment in May.
Applicants should email an application to
info@twistprojects.co.za
by Monday 22 April.
Applications MUST include the following:
1) A short Curriculum Vitae containing the following:
Personal Information
Relevant Education and Training
Theatre Writing Experience
2) A short motivation for acceptance to the workshop, with names and contact details of two theatre-related referees
3) A short 3 - 8 page sample of an original theatre script (please do not send the full script).
Applicants will be contacted by the end of April regarding the outcome of the selection process.
Twist will be hosting a development workshop for less established writers later in 2013, and will make a separate call for this project.
Great tips in this interview with +Cath Jenkin for Bloggers, Writers and Copywriters.
A DOG TALE by Andrew Verster
"You've run over my dog."
"I certainly did not."
"But it's under the wheel of your car."
"Can't think how it got there."
"Poor Bonzo's dead."
"No denying that."
"But YOU did it."
"I beg to differ."
"What on earth are you talking about?"
"He was dead before I ran over him."
"Are you MAD? Would YOU be walking a dead dog on a leash?"
"Certainly not. But I'm not you. And there's no accounting for what other people do."
"Look at him. As flat as a pancake."
"Flattish."
"Is that all you can say?"
"FLAT, then. Is that better?"
"I'll report this to the police."
"You do that, and in the meantime would you move your dog. I have a meeting and I'm late."
"What did you say your name was?"
"I didn't.'
"No matter, I'll just tell them the ugly man with halitosis did it."
"But I've just brushed my teeth."
"Brushing's not enough. Try flossing."
"Thanks for the tip."
"No problem. Where did you say Musgrave Centre was?"
"Right here. We are IN it."
"Must rush. Nice to meet you. Don't forget your dog."
Andrew Verster is a Artist and Writer based in Durban